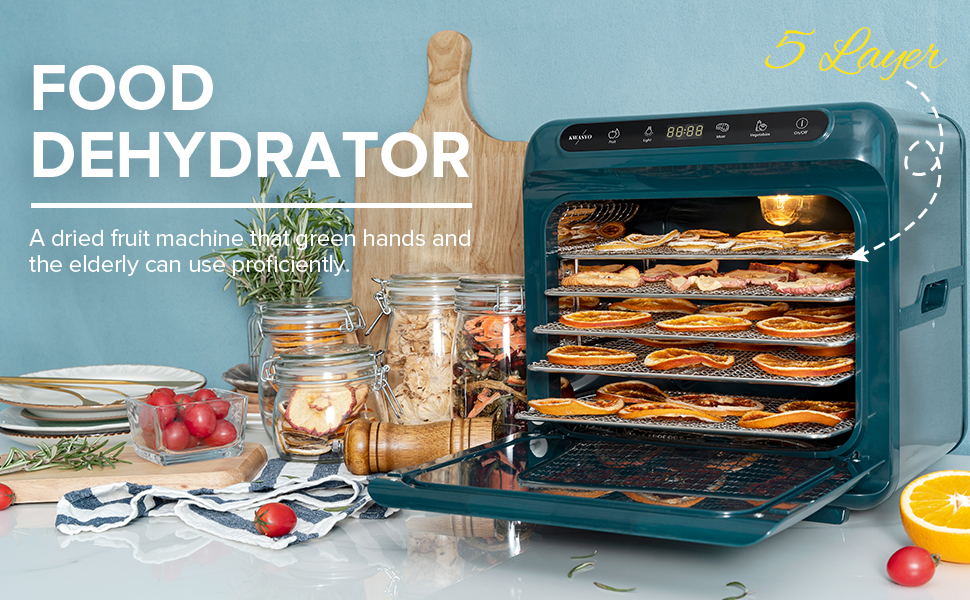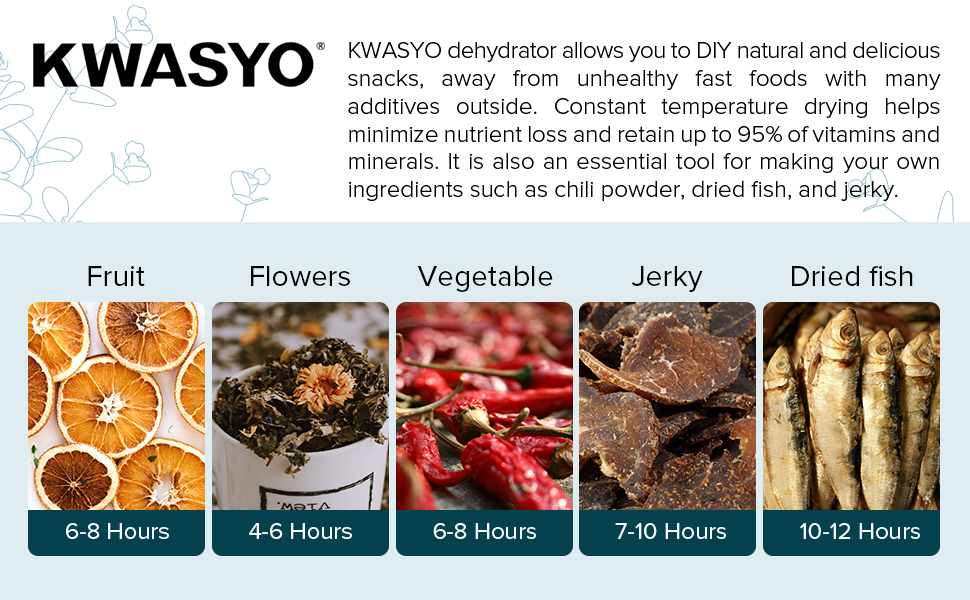 Student dormitory: Low power is suitable for dormitories and apartments.
Office area: Ultra-quiet can be placed in quiet environments such as office areas and bedrooms.
Elder friendly: Quick to get started, no complicated settings, and suitable for the elderly.
Perfect gift: Sleek and compact, with a color box design, best gift for artisanal snackers.
Automatic shutdown function:
After the timing is over, the heating tube stops working, and the fan will continue to work for 2 minutes to quickly dissipate heat and prevent hands from being burnt.
Space saving:
This mini and lightweight dehydrator has a hook design on the back, which can be hung on the
wall. You no longer feel crazy about the cramped kitchen space.
Lamp protective cover: Extended bulb life, made of glass.
Smart door control: After opening the door, the dehydrator stops running and the light will be turned on automatically. After closing the door, the dehydrator run automatically and the light will turn off automatically.
Magnet door: The magnetic door is easy to open and close. Minimize heat loss, improve drying efficiency, energy-saving, and environmental protection.
Drip tray: It is made of high-temperature-resistant PC material to prevent the water or juice from overflowing.
√ Summary
❤ Precise Temperature Control: LED intelligent operation panel. You can set the drying timer from 0 to 12 hours.
❤ Adjustable Tray Height: Conveniently move trays around for your cooking needs.
❤ Durable, Easy to Clean: The inside of the machine can be easily cleaned with a damp towel, and the stainless steel grid can be rinsed with water or directly in the dishwasher.
❤ Recipe Book: Comes with a free recipe book of varieties of food, and you can easily make delicious and healthy food based on the recipe.
❤ Low energy consumption, high efficiency, energy-saving.
❤ Food Preservation: Professional 5 trays dehydrator makes creating healthy, nutrient-dense food easy for any home or commercial operation. Create your own dried food snacks like beef jerky, dried fruit slices, or granola, or try new recipes like kale chips and fruit leathers.
√ Features
❥ Precise Temperature Control
❥ 67 Kinds of Food Drying Methods
❥ 5 Trays
❥ ETL-Listed, BPA-Free & FDA Certified
❥ 1-Year Limited Warranty
√ Product Specifications
❤ Voltage: 110V (U.S. Standard) / 220V (UK & Euro Standard), 50/60Hz
❤ Temperature Range: Default temperature: 167°F/75°C(±41°F /5°C)
❤ Product Size: 11.8 x 9.6 x 12 in / 300 x 245 x 305 mm
❤ Noise: 35~50db
❤ Item Weight: 3.8kg
❤ Timing Range: 0~12 hours