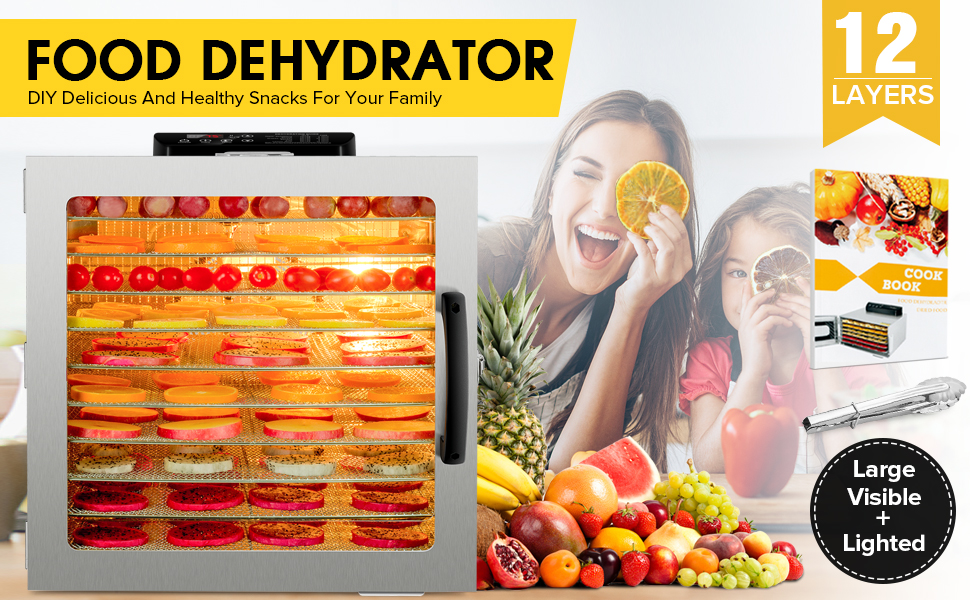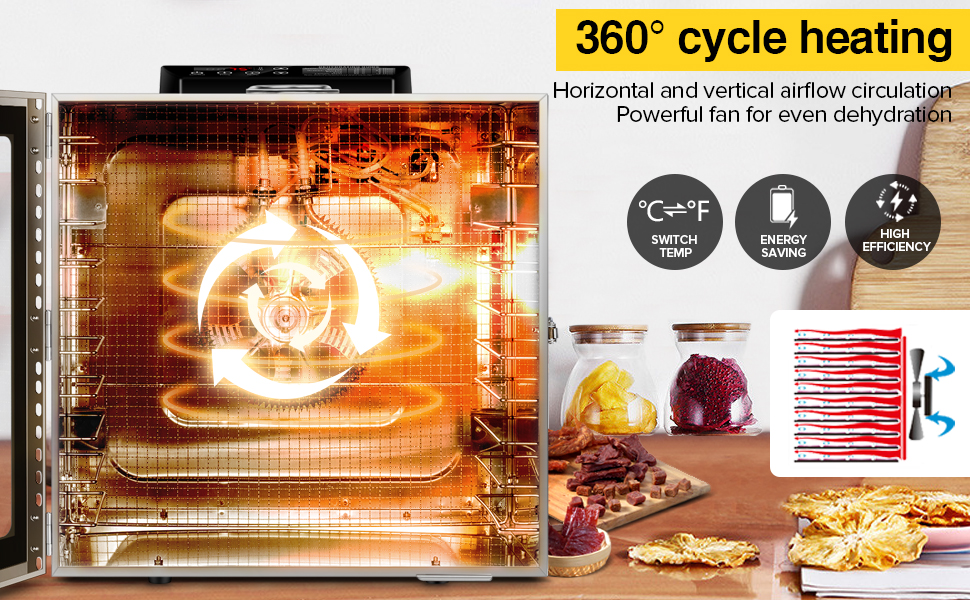 √ Summary
❤ Precise Temperature Control: LED intelligent operation panel, one-touch operation, temperature control and timer with automatic switch-off ensure maximum ease of use.
❤ Adjustable Tray Height: Conveniently move trays around for your cooking needs.
❤ Durable, Easy to Clean: The better part-the stainless steel is a breeze to clean, and dishwasher safe.
❤ Recipe Book: Comes with a free recipe book of varieties of food, and you can easily make delicious food based on the recipe.
❤ Stainless Steel Materials & Glass Window: Full Tempered Glass Window and Explosion-proof warm light, know the food manufacturing process.
❤ Low energy consumption, high efficiency, energy-saving.
❤ Food Preservation: Kwasyo all stainless steel food dehydrator provides enough space to dry all kinds of vegetables, fruits, herbs, meat, fish, shrimp, bread, mushrooms, and others quickly and easily. It can lock the minerals and vitamins in the food, Keep it more nutritious.
❤ Top Features: Square tray design offers a larger capacity when compared to the usual round tray design.
❤ Cooling System & Free Recipes: 1000 watts of heating power, a 7-inch rear-mounted horizontal air-flow Dehydration fan system makes our jerky maker more efficient.
√ Features
❥ Precise Temperature Control
❥ 67 Kinds of Food Drying Methods
❥ 12 Trays
❥ ETL-Listed, BPA-Free & FDA Certified
❥ 1-Year Limited Warranty
√ Product Specifications
❤ Voltage: 110V (U.S. Standard) / 220V (UK & Euro Standard), 50/60Hz
❤ Temperature Range: 86–194°F/30–90°C
❤ Product Size: 15.74 x 18.3 x 14.96 in / 400 x 465 x 380 mm
❤ Noise: 35~50db
❤ Item Weight: 29.5pounds
❤ Timing Range: 0~24 hours
√ Package Included
❥ 1 x Food dehydrator (Shell stainless steel 201)
❥ 12