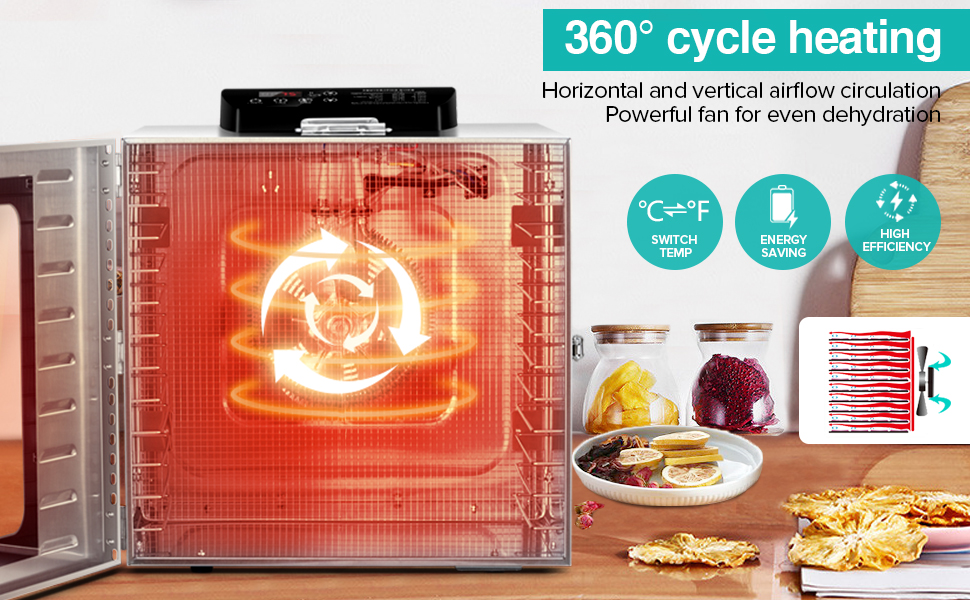 √ Summary
❤ Precise Temperature Control: LED intelligent operation panel, the one-touch control panel lets you choose a temperature between 86–194°F/30–90°C and set a timer.
❤ Adjustable Tray Height: Conveniently move trays around for your cooking needs.
❤ Easy to Clean: The 12 trays and racks are dishwasher safe and convenient to clean.
❤ Recipe Book: Our food dehydrator gives away free recipes to provide you with 67 kinds of ingredients so that you can enjoy the fun of handmade.
❤ Keep Warm Function: After drying, click the keep warm button, and the machine will automatically keep the food warm by running at 35°C for 24 hours.
❤ Cooling System & Free Recipes: 1000 watts of heating power, a 7-inch rear-mounted horizontal air-flow Dehydration fan system makes our jerky maker more efficient.
❤ Stainless Steel Materials & Glass Window: Glass window is convenient for you to track the progress of drying ingredients.
√ Features
❥ Precise Temperature Control
❥ 67 Kinds of Food Drying Methods
❥ 12 Trays
❥ ETL-Listed, BPA-Free & FDA Certified
❥ 1-Year Limited Warranty
√ Product Specifications
❤ Voltage: 110V (U.S. Standard) / 220V (UK & Euro Standard), 50/60Hz
❤ Temperature Range: 86–194°F/30–90°C
❤ Product Size: 15.74 x18.3 x 14.96 in / 400 x 465 x 380 mm
❤ Noise: 35~50db
❤ Item Weight: 13kg
❤ Timing Range: 0~24 hours
√ Package Included
❥ 1 x Food dehydrator (Shell stainless steel 201)
❥ 12 x Grid (Stainless steel 304)
❥ 1 x Drip tray (Stainless steel)
❥ 1 x Clip (Stainless steel)
❥ 1 x User manual
❥ 1 x Cooking book