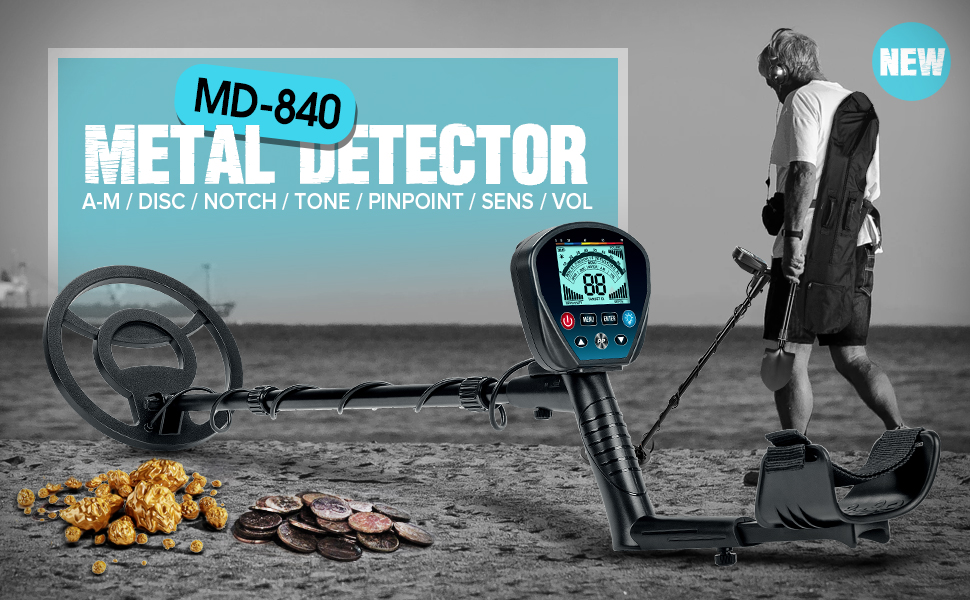 3 Tones Distinguish Metals:
There are different sounds that are emitted when different metals are detected, and it is applicable in all modes. You don't have to wait until you dig to know the type of metal, you can still enjoy the surrounding scenery while using the detector.
Low pitch: nails, 5 cents, coins, nickel
Middle pitch: pull ring, alloy screw, nut, 1 cent zinc coin
High pitch: 10 cents coin, 25 cents coin, 50 cents coin, 1 dollar coin, gold, silver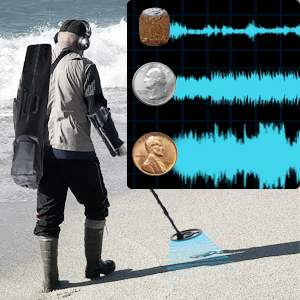 All Metal Mode:
In this mode, you can detect all types of metal, such as gold, silver, iron, and aluminum. It is suitable for Child and Green hand.
The ALL-Metal model will allow them to reap the rewards in a short time, which will make them very excited.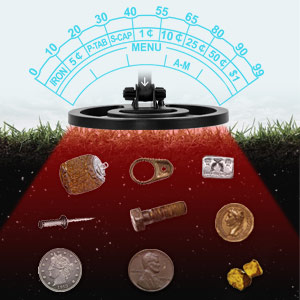 Notch Mode = Custom Mode:
In this mode, you can choose to detect specific metal types at will. After selecting and locking the type of metal you want to detect.
The detector will only respond to these metal types, which is more purposeful than the DISC model.
It is suitable for professionals and people who love challenges because valuable metals are not so easy to find.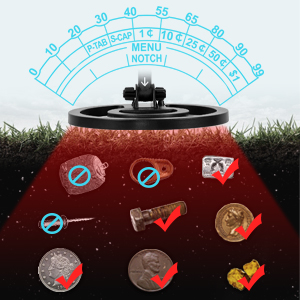 Discrimination Mode:
In this mode, the MD840 can help you to detect multiple types of metals but exclude cheap metals, it allows you to exclude up to 6 metal types from left to right.
After setting, the corresponding icons will dim, the detector will not react to them, which can improve the detection efficiency greatly.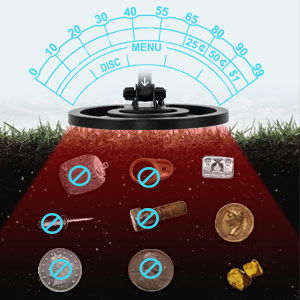 User-friendly Intelligent Control System:
Memory Function: The settings (Sensitivity, DISC, NOTCH, Volume) can be retained after each use, which can save the reset time for the next use. According to market research, 97% of the gold detectors don't have this function.
Automatic Shutdown Function: It will automatically power off within about 15 minutes when you stop operating. With this function, you can conserve more battery power when digging metal.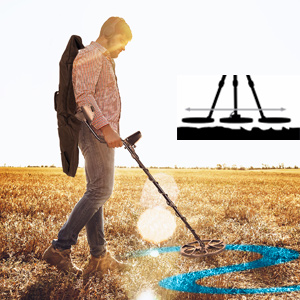 Detectable metal types:
IRON(0-9): Probably iron nail.
5¢-(10-19): Probably 5¢, nickel or some small gold rings.
P-TAB-(20-29): Probably a pull tab of an aluminum can or some small gold rings.
S-CAP(30-39): Probably Alloy nuts.
1¢(40-54): Probably a coin of 1¢, type of metal of zinc alloy, or some medium-sized gold rings.
10¢(55-64): Might be a coin of 10¢ or some large rough gold.
25¢(65-79): Probably 25¢ or a silver coin.
50¢(80-89): Probably 50¢.
(90-99): Probably 1 dollar.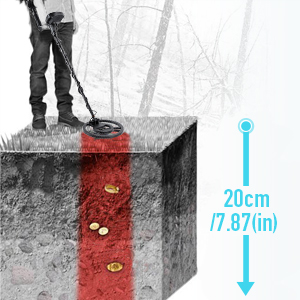 Waterproof search coil:
With a protective cover, IP68 waterproof rating allows you to use it in shallow water. It can help you find treasure on the beaches or by the rivers. Never miss the underwater treasure.
With 10"/254mm big search coil, allows you to detect deeper treasure.
Detection depth :25cm / 10inch (for a US quarter)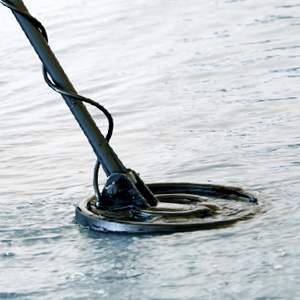 LCD Backlight Screen:
It is equipped with a large backlight LCD, which can show the depth of the target, possible types of metal, operating mode, sensitivity level, and battery indication even at night clearly. It allows you to search for treasure at night normally.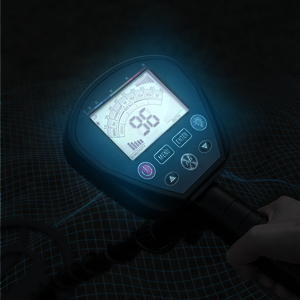 | | |
| --- | --- |
| Brand | KWASYO |
| Material | Aluminum, Plastic |
| Type | Ground Search |
| Intended Use | General Purpose,Industrial,Pinpointing,Gold Prospecting,Beach/Surf,Security |
| Features | Backlight, Waterproof |
| Model | MD-840 |